Join ETC's international staff team!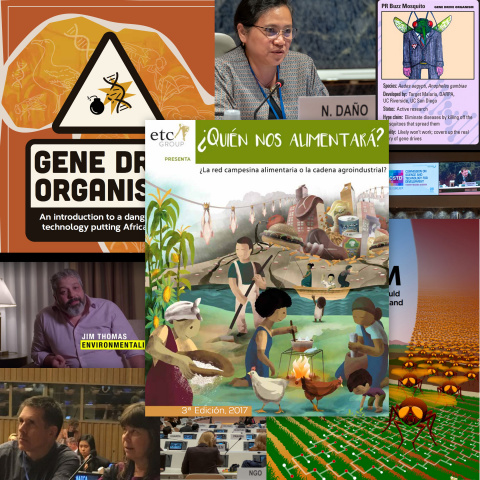 Can you help create messages, materials and imagine actions that dramatically communicate the threats that new emerging technologies and corporate power pose to the rights of marginalised peoples and the future of life on Earth?
Are you able to craft and execute communication strategies that turn cutting edge research into a powerful force for change – differentiated for governments, for social movements and for the public?
Are you interested in helping co-ordinate an agile global collective of activists and experts working across time-zones and cultures to set a ground-breaking communications agenda on new technologies, biodiversity, food sovereignty, climate justice and human rights?
Do you have the skills to bring high quality communication outputs and products from conception to delivery within deadline and budget?
About ETC Group
ETC Group is a small international civil society organisation that undertakes ground-breaking research, advocacy and campaigns. We address the socio-economic and environmental impacts of new technologies and corporate concentration as they impact the food system, biodiversity and the rights of marginalised peoples.
Across forty years of activism we are best known for our early warnings and analysis of new technological threats including GMO's, Synthetic biology and geoengineering as well as for tracking the concentration of power into fewer and fewer corporate hands. We are known for being first to expose, name and define terms such as Farmers Rights, Biopiracy, Terminator Technology, and for making visible the potential of peasant agriculture to address global challenges. We are also known for initiating work to achieve significant decisions at United Nations fora.
While ETC Group has strong communications knowledge among its staff, we are now looking to hire a colleague who will anchor this important aspect of our work. Supported by and reporting to ETC's co-Executive Directors, this individual will organise and manage ongoing communications work and take the lead in developing and implementing an organisation-wide communications strategy. We are looking for someone motivated by the fight for social justice and excited by the challenge of bringing ETC Group's communication capacity and infrastructure up a few notches.
 ETC Group Communications Coordinator will be expected to:
Take leadership in developing, implementing, reviewing and updating an organizational communications strategy to ensure high quality communication outputs across ETC Group's different issues and advocacy goals – including both specialized and popular communications.

Convene our communications team, made up of a sub-set of ETC colleagues and organize planning calls on a regular basis.

Work in collaboration with staff colleagues to develop issue-area communication materials for specific research products and events.

Manage the delivery of communications outputs within budgets and to deadlines. This includes scheduling and managing production, briefing and supporting designers, translators, and coordinating printing and production - for website, online, social media, reports, multimedia, video, podcasts and other forms of communication, as needed.

Be prepared to create communications material for large and long-term projects, as well as to respond to urgent communications needs that may come up on a weekly basis.
Manage the editing of communications outputs – including arranging external editors, establishing and maintaining house style, offering stylistic and structural edits and acting as final set of eyes on outward-facing communications before review by co-executive directors.
Develop and maintain a media outreach strategy for ETC Group, including monitoring media. This may include maintaining a press database placing articles, blogs and multimedia content as well as preparing short journalistic articles, news releases, backgrounders and other content for media.
Participate in the collective governance of ETC Group as an international civil society organisation, which may include participation in fundraising, campaign strategies, staff policy, organisational development and other matters.
Be available to attend and participate in ETC's organizational meeting in Spring 2020.
Keep abreast of developments in ETC Group's fields of activities and read related material within the time available to you.
Provide timely, accurate financial accounting for all activities.
We are looking for:
Proven proficiency in both writing and editing English to a high standard, ideally accompanied by journalistic or similar experience. Fluency in another language, such as French or Spanish, is also desirable, but not essential.
Experience in transforming technical research reports into popular formats aimed at different target groups.
Evidence of experience and skill in developing effective communications and narrative strategies for social change.
Evidence of organizational skills, project management experience and/or coordinating the production of publications at a similar organisation.
Experience or strong ambition to work in civil society and/or grassroots activist organisations and networks, especially at international and regional level.
Ability to work flexibly in virtual groups but also to work autonomously and collaboratively, and with good inter-cultural skills.
Good knowledge of publishing on the internet, familiarity with social networking tools would be desirable as would familiarity with online communication strategies 
Existing familiarity with some (or all) of the issue areas and political arenas that ETC tracks would be advantageous. Having an affinity to ETC Group's core values is essential, including a commitment to decolonization and anti-racism.
Ability to rapidly become acquainted with new and unfamiliar topics.
Availability to undertake some international travel (2-5 times per year).
Ability to work flexibly across different time zones.
A high level of patience and a sense of humour will be vital attributes.
Location:
This is a full-time position that can ultimately be based anywhere in the world. As part of the induction process, ETC Group would be interested in exploring the possibility of the succesful candidate spending a number of weeks during their initial months in the job working alogside staff in one or more of the following locations Davao (Philippines), Val David (Canada), Mexico City (Mexico), London (UK), Oakland (USA).
Salary: Depends on location. ETC Group sets employee salaries to be commensurate with those of similar small- to medium-sized non-profits operating in the countries where our staff are based.
Equity: We are an equal opportunity employer and strongly encourage applications from people whose backgrounds are under-represented in our sector, including women, people from the Global South and/or working-class backgrounds, LGBT+, people of colour and those with long-term health conditions or who are disabled.
Duration and Benefits: This position would initially be for one year probation with a possibility of becoming permanent (subject to evaluation, review and funding constraints). ETC Group offers its permanent employees generous benefits and holidays package. ETC Group allows for work time and locations to be arranged flexibly
Send your CV and letter of intent to jobs@etcgroup.org beginning NOW! (December 20th, 2019)
Deadline to receive applications: Friday, January 31st, 2020.