ETC Group is looking for a new team member to focus on our work on geoengineering.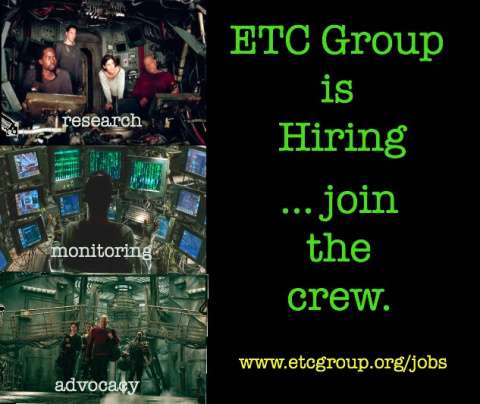 July 2023
We are a small international collective with offices in Canada, the Philippines and Mexico, and colleagues working in the UK, India, Argentina and Uganda. Find out more about us at https://www.etcgroup.org/
ETC Group has been monitoring, analyzing and campaigning against climate geoengineering since 2007. Together with other organizations and movements worldwide, we maintain the website Geoengineering Monitor, and support the coordination of the Hands Off Mother Earth Alliance (HOME Alliance).
Worryingly, the amount of geoengineering proposals being promoted as false "solutions" to climate change has exploded in recent years, as they are being pushed by many of the big polluters, who want to avoid real reductions of greenhouse gas emissions, while making more profits with the illusion of a quick climate technofix.
To strengthen our work in this field, we are seeking a new colleague to work with us in monitoring, exposing and campaigning against geoengineering.
While this would be the main focus for this position, we at ETC Group work as a collective and seek to integrate the various issues we work on, including corporate concentration, new technologies such as synthetic biology and digitalization in food and agriculture, as well as promoting participatory technology assessment, food sovereignty, biodiversity, peasant and indigenous peoples´ rights, gender rights, among others.
This is a position to work at a global level, combining campaigning, and researching in collaboration with civil society networks, intervening in international UN processes and communications and outreach about geoengineering technologies and their risks.
ETC Group´s lead person on geoengineering will provide direct guidance and supervision to the person taking this position.
 Responsibilities include:
Monitor geoengineering developments globally
Analyze geoengineering projects and proposals
Produce briefings and articles on geoengineering
Actively participate in civil society networks
Organize seminars and other activities on geoengineering for civil society
Undertake advocacy work in relevant international fora
What is expected from the person taking the position: 
Experience and skills relating to civil society organizing and movement building, campaigning, lobbying and advocacy
Ability to collaborate and work within a global culturally diverse collective
Good writing and research capacity
Ability to work independently
Willingness to travel internationally when required.
Flexibility to work across timezones
Working language: English
Other languages, especially Spanish and French, are a plus.
Location: We invite candidates especially from the Global South, but we will also consider applicants based in other parts of the world who meet the above qualifications. Excellent internet connection is a must.
Time: We seek someone to fill a full-time position (37.5 hours/ week) – Other options could be discussed.
This is an initial 1-year contract, with possibility to stay as permanent staff after mutual positive evaluation at the end of the initial contract.
Salary: Depends on location and experience.
Deadline: OPEN UNTIL FILLED
Please send a cover letter explaining briefly why you would like to work with ETC Group, a short CV or a summary of your education and prior work experiences, samples of research/writing and two references.
Send application to jobs@etcgroup.org
Write "Geoengineering application from (your name)" in the subject line
Only successfully shortlisted candidates will be contacted.