Food Barons 2022, names and ranks the largest food corporations dominating each link of the 8-10 trillion dollar commercial industrial food chain.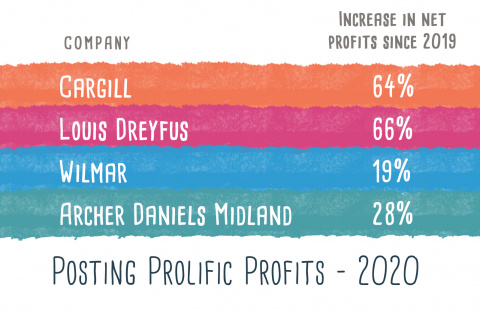 New report online at: https://etcgroup.org/content/food-barons-2022

As more people worldwide ask why they can no longer afford food, ETC Group is launching its flagship report:  Food Barons 2022,  Crisis Profiteering, Digitalization and Shifting Power.  The report shows extreme corporate concentration in agrifood, a factor driving high food prices. It also outlines the latest corporate maneuvers making the food system more vulnerable to shocks and disruptions.

Meticulously researched over two years and drawing on 2020 data from 11 food sectors, Food Barons 2022, names and ranks the largest food corporations dominating each link of the 8-10 trillion dollar commercial industrial food chain.

Extreme oligopoly
Economists typically consider that if four firms together operate 40% or higher of a sector that constitutes an oligopoly. The results of this report shows that our food system has already tipped well into oligopoly.
Four firms (Sygenta, Bayer, BASF, and Corteva) control 62% of the world agrochemical market: the top six  control 78% of the market
Three multinational companies (EW Group, Hendrix Genetics and Tyson Foods) control 100% of commercial poultry genetics
Two companies (Syngenta Group and Bayer) control 40% of the commercial seeds market

Digital domination
Tech giants are becoming prime players in food, handling the data, networking and AI that undergirds the newly digitized food chain.  Bayer's 'Field View' digital platform, extracts 87.5 billion datapoints from 180 million acres (78.2 million hectares) of farmland in 23 countries and funnels it into the cloud and AI servers of Microsoft and Amazon to generate new business strategies. These systems displace farm workers, erode farmer's rights and manipulate consumers.

Big finance behind big food
Food Barons 2022 also explores how finance majors are  in the driving seat of the commercial food system. In sectors such as grocery and food processing giant asset managers Blackrock, State Street And Vanguard maintain the largest ownership stakes across many of  the top firms, showing real competition to be an illusion.

Profiteering -  Exploiting Crises of Climate, COVID and Conflict
The extreme market power documented in this report - a tiny number of firms controlling huge markets - enables high prices. The food barons noted in this report have capitalized on COVID to digitize processes and lay off workers. The climate crisis is invoked to promote proprietary and expensive 'high tech' seeds, 'digital farming' kit and 'alt proteins' which swell their coffers. These false solutions could further indebt farmers and trap them in new mechanisms of control. More recently, war in Ukraine has become a further smokescreen for profiteering.

The report makes clear that policymakers and antitrust regulators haven't developed the tools or the teeth to clamp down on 21st century oligopoly power – including the opaque power of tech giants and asset management firms.

There are summary and full chapters looking at these issues for:
Agrochemicals and Commercial seeds
Synthetic fertilizers
Livestock genetics
Machinery for big ag
Animal pharma
Agricultural commodity trading
Big meat & protein
Food and beverage processing
Grocery retail
Food delivery
The (Bio)Digital Takeover of Food and Agriculture.

The Food Barons 2022  report is being launched by ETC Group as the international seed treaty meets in New Delhi, India from 19-24 September 2022  and only weeks ahead of the UN's Committee on World Food Security (October 10th-15th) where agencies, activists and governments will come together to address the global food price crisis and the rapid digitization of food systems, among other topics.

https://www.fao.org/plant-treaty/ninth-governing-body/en/


Comments :

"It can be daunting to imagine taking on the Food Barons - They are backed by the titans of capital, have their claws in around 10% percent of the global economy and are ruthlessly buttressing the Food Chain with new technologies and false promises. But their power is illegitimate and not inevitable . Agribusiness  has failed to feed even a third of people on the planet, while wrecking ecosystems, economies  and society along the way. As the food chain becomes more top-heavy these companies become more exposed and vulnerable. Its time to topple , defund and divest the food barons of their power" says Jim Thomas , ETC Group's Research Director based in Quebec, Canada.
 
"Agribusiness is also in a moment of significant transformation, as it is challenged by new players and seeks to regain legitimacy amidst the climate crisis and biodiversity collapse that it has itself caused. This is a moment to see the Food Barons for what they are, to find their structural weaknesses and to take strategic collaborative action to take them on," says Neth Dano, ETC Group's Asia Director based in Mindanao, Philippines.

"We have to remember that structural inequality and corporate concentration drive high food prices. This report highlights the startling consolidation that has enabled profiteering around climate, conflict and COVID-19. It names the culprits who are fuelling growing hunger," says Veronica Villa from ETC Group's office in Mexico City.


====
FURTHER INFORMATION

PRESS CONTACT: Ronnie Hall (UK) and Laura Dunn (Canada)
Ronnie@etcgroup.org, Laura@etcgroup.org

Report, quotes, photos and illustrations available at https://etcgroup.org/content/food-barons-2022
Twitter: @ETC_Group     Website: www.etcgroup.org
 
More about ETC Group www.etcgroup.org
ETC Group is a small, international, research and action collective committed to social and environmental justice, human rights and the defence of just and ecological agri-food systems and the web of life. We focus on understanding and challenging corporate-controlled techno-industrial systems and exposing the dangers of the technolog- ical manipulation of life, especially in relation to climate justice and food security. We uphold peasant and indigenous ways of life and knowledge systems; food sovereignty; people's control of technology; and just economies and governance.