The UN Food and Agriculture Organization (FAO) has bumbled into a controversy over whether peasants or agribusiness feed most of the world.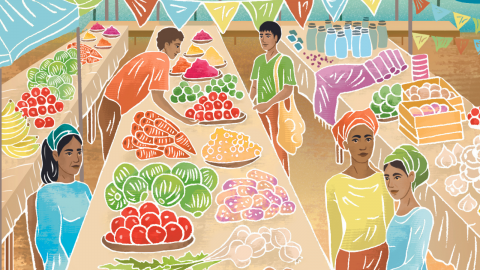 Eight organisations with long experience working on food and farming issues have written to the Director General of the FAO today sharply criticising the UN agency for a 2021 report that is statistically confusing and contradicts FAO positions. The open letter calls upon FAO to examine its methodology, clarify itself and to reaffirm that peasants (including small farmers, artisanal fishers, pastoralists, hunters and gatherers, and urban producers) not only provide more food with fewer resources but are the primary source of nourishment for at least 70% of the world population.
According to the letter's signatories, the problematic study "Lowder SK, et al.,(2021) "Which farms feed the world and has farmland become more concentrated?", World Development, 142." reverses a number of well-established positions held by the UN Food and Agriculture Organization (FAO) as well as many other multilateral organisations and civil society.
The study:
Changes the definition of "Family Farmer" adopted by FAO and the UN Decade of the Family Farm by excluding artisanal fishers, pastoralists, urban food producers and other accepted categories. By extension it also excludes these food producers from the definition of "small farmer".

Arbitrarily defines a "small farm" as less than 2 ha contradicting FAO's own decision in 2018 to reject a universal land area threshold for describing small farms in favour of more sensitive country-specific definitions founded on the relationship between different variables.

Discounts or ignores recent FAO and other reports proving that peasant farms produce more food and more nutritious food per hectare than large farms.

Without evidence, maintains that policymakers are wrongly focused on peasant production and should give greater attention to larger production units.
The signing organisations also strongly disagree with the study's assumption that food production is a proxy for food consumption and that the commercial value of food in the marketplace can be equated to the nutritional value of the food consumed.
The paper is not only a clumsy departure from FAO's previous research and positions, it also feeds into an agribusiness narrative anxious to play down the importance and effectiveness of peasant production in order to build support for their proprietary technologies, subsidies and regulatory needs.
With these contradictions, the FAO paper concludes that the world small farms only produce 35% of the world's food using 12% of agricultural land. In contrast, the letter's signatories, working with FAO's normal or comparable databases, estimate that peasants nourish at least 70% of the world's people with less than one third of the agricultural land and resources.
The organisations conclude that the international community would benefit from more collaborative research and clarity from FAO. There are few issues more important to get right than to understand which system is best able to meet the enormous food system challenges of the 21st century: agribusiness that sucks up more than 70% of agricultural resources and only addresses 30% of the people? Or Food Sovereignty that is already nourishing 70% of the people with less than one third of agricultural resources?
The CSO letter to FAO can be read here, and an accompanying background document explaining the issues at stake and reviewing the evidence (as well as scrutinising a second closely related study) can be downloaded here. The FAO report can be read here.