As international debate on gene drive technology heats up, Canadian immigration officials deny a key voice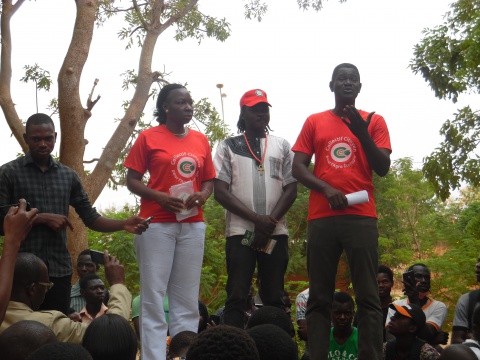 MONTREAL, July 4, 2018 - United Nations biodiversity negotiations are underway in Montreal, but a key African expert is missing from the fray. Ali Tapsoba, President of the organization Terre à Vie in Burkina Faso, was planning to speak at two events on behalf of Burkinabé civil society who oppose the release of gene drive mosquitoes, a controversial new biotechnology, in their communities.
His visa application was denied without explanation by the Canadian embassy in Dakar on Friday.
"Tapsoba is probably the preeminent voice in Burkina Faso against the Target Malaria Consortium, which is leading the project towards release of Gene Drive mosquitoes in the wild," said Mariann Bassey of Friends of the Earth Nigeria and Chair of the Alliance for Food Sovereignty in Africa (AFSA).  
"I am very disappointed that I have been prevented from attending these important negotiations addressing issues of biotechnology at a time when Africa is plagued by multinationals that want to impose GMOs and destroy the beautiful biodiversity of the continent," said Tapsoba in a written statement. "Don't Africans have the right to meet other nationalities from around the world in Canada to discuss the future of humanity?"
Canada's denial of Tapsoba's visa comes at a moment when biotech industry backers are spending millions of dollars to promote gene drives, a powerful technology that could be used to render species extinct, or create new kinds of corporate control of agriculture and the environment.
Freedom of Information requests recently showed that the US military poured up to $100 million into Gene Drive research and promotion. The Gene Drive promotional push has been linked to high-level Canadian officials as well. [1]  At the UN Convention on Biodiversity negotiations, Canada has threatened to derail these important international negotiations on gene drives using a procedural question as a blocking tactic.
"It is alarming that the same Canadian negotiators that have been named as coordinating with the biotech lobby are now threatening other delegates to waste their negotiating time and prevent real rules on gene drives." said ETC Group Co-executive Director Jim Thomas.
Gene drive developers at the CBD are touting "participation" and "transparency" as they lobby governments for lax regulations on gene drives; this rings hollow when those directly affected by a proposed gene drive release are blocked from attending decision-making processes.
"We strongly hope the Canadian government will respect its obligations and support moves to ensure the free prior and informed consent of indigenous people and local communities on the issue of gene drives," said Geneviève Lalumière of Union Paysanne, member of La Via Campesina, the international peasant movement with a membership of 200 million.
About Gene Drives
Gene drives are a controversial and powerful new technology that uses CRISPR-Cas9 gene editing techniques to spread a specific genetic trait through an entire species or population – in some cases with the purpose of driving species to extinction. Current gene drives experiments have been conducted on insects, rodents and plants. If the inserted genetic trait results in only male offspring, as is being attempted for rodents and mosquitoes, a full wild population or even a species could go extinct. As far as is known, gene drives have never been released into the environment anywhere in the world.
"Gene drives organisms pose unique threats to nature and livelihoods", says Silvia Ribeiro, Latin America Director for ETC Group. "It is the first time that the biotech industry has intentionally designed GMOs to spread aggressively in the natural environment and contaminate wild species."
Sources
1. https://corporateeurope.org/food-and-agriculture/2018/06/biosafety-danger
-30-