Hook meets COPs at the UN's Biodiversity Convention in Malaysia Friday the 13th Awards for Outstanding Malchievements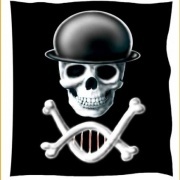 The Coalition Against Biopiracy (CAB) will present its highly un-coveted Captain Hook Awards – for infamous and outstanding malchievements in biopiracy – at the Biodiversity Convention (CBD) in Kuala Lumpur, Malaysia, Friday the 13th of February 2004. This is the third Global Biopiracy Awards ceremony since the Captain Hook awards were established in 1995. The previous awards were given out in ceremonies at the sixth meeting of the CBD (COP 6) in The Hague in 2002 and at the CBD's fifth meeting in Nairobi in 2000 (COP 5). The Coalition Against Biopiracy emphasizes that the Captain Hook Awards are a collaborative effort, made possible by the vigilance and analysis of many civil society and peoples' movements around the world. This year, for the first time, the public was invited to make nominations by submitting claims along with full documentation to the CAB's web site at www.captainhookawards.org.
Ignoble Laureates: At COP 7 in Kuala Lumpur, corporations, academics, research institutions and individual bio-buccaneers will find out if they are to be inducted into biopiracy's Hall of Shame for 2004. This round's nominees include (in the "Most Outrageous" category) a Dutch company that is attempting to patent Ethiopia's Teff varieties for use in Europe; an Australian biotech boutique that has laid monopoly claims to the non-coded DNA of all living creatures (the "Greediest" category); and two entries in a new "nanopiracy" category for patenting several hundred traditional herbal medicines at the nano-scale. The candidates in the 11 award categories include the president of Brazil, Monsanto, and governments or government institutions, such as Mexico and the United States. International conventions including the CBD's Bonn Guidelines and WIPO have been nominated. All signs point to the Mexican Institute of Industrial Property to take the prize for the "Most Offensive Act of Cultural Piracy" for allowing a trademark on the Virgin of Guadalupe, patron saint of Mexico. "I think it would take an act of God to keep them off the winner's podium!" says Hope Shand of the CAB.
Biotech Blooper Awards? "We had a swarm of nominations related to agricultural biotechnology and GM contamination," reports Neth Dano of the CAB, "so many, in fact, that we are considering establishing a new awards program exclusively for biotech abuses that could be given out at meetings of the MOP (Cartegena Protocol) every two years. And, of course, Monsanto is so ubiquitous at the Captain Hook Awards, it won't be long before they earn a Lifetime Achievement Award."