Kink in UK's 'Trojan Hose' geoengineering experiment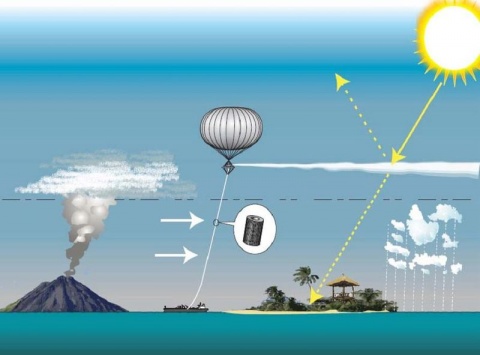 Opponents of proposals to "geoengineer" the planet have two reasons to celebrate this week. 
Firstly, ETC Group has learned that UK scientists, in the midst of controversy, are on the cusp of postponing an imminent test of an experimental hose (dubbed the "Trojan Hose" by opponents) designed to deliver sulphur dioxide to the stratosphere as a way to engineer a cooler planet. The test had been scheduled for October; on Monday, 60 groups from around the globe sent an open letter to the UK government and the research councils involved expressing their opposition to the experiment. No public announcement of the decision has been made and details must be clarified, but an undeniable lack of prior stakeholder engagement is the likely reason for the delay.
Secondly, the European Parliament meeting in Strasbourg on Thursday adopted a resolution expressing "opposition to proposals for large scale geoengineering" – the first time the European legislature has commented on the matter. The resolution aims at developing a common EU position ahead of next year's United Nations Conference on Sustainable Development (Rio+20). The resolution also called for the establishment of "capacity within the UN system to monitor, evaluate and provide information about new technologies." The Parliament's call echoes recent calls from civil society, which stress the crucial need for strong participation in technology evaluation from social movements and civil society, especially those people potentially affected.