Fast-tracked Legislation to Allow Sterile Seeds Would Harm Farmers, Food Security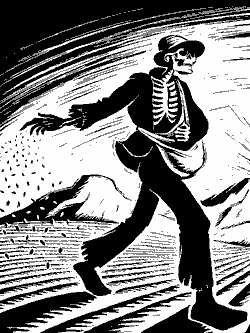 News Release
Today Brazil's Judicial Commission (Comissão de Constituição e Justiça e de Cidadania) is slated to rule on the constitutionality of a proposed bill (PL 268/2007) that will allow genetically engineered sterility in seeds, known as Terminator Technology. If the bill gains the approval of the Commission, it could quickly come to a vote in Congress. Brazil's national law to ban Terminator has been under threat since it was enacted 8 years ago, but this most recent congressional action has caused the most serious alarm since it could swiftly overturn the ban.[1]
"It's shocking that Brazil is on the verge of reversing its national position on suicide seeds. If the government is at all sincere about its desire to eliminate hunger, it can't allow a law that would ultimately threaten farmers and undermine their ability to grow food," says Maria José Guazzelli of Brazil's Centro Ecológico. "Brazil can't reach a goal of 'Zero Hunger' with Zero Farmers."
Since it first came to public light in 1998, Terminator technology has been widely condemned as a threat to biodiversity, farmers and food sovereignty. Initially developed by the world's largest seed and agrochemical firms and the US Department of Agriculture, Terminator would prevent farmers from saving seeds from their harvest and would insure their dependence on multinational firms. At present, 6 multinational (Syngenta, Bayer, BASF, Dow, Monsanto, DuPont) control 60% of the global commercial seed market and 76% of the agrochemical market.
193 Parties to the UN Convention on Biological Diversity are unequivocal about Terminator, unanimously agreeing on a de facto moratorium in 2000, which was strengthened at the Conference of the Parties in 2006, under the presidency of Brazil.
"If Brazil were to approve this legislation, it would signal a clear intent to violate the international moratorium on Terminator, defying the will of 192 other countries," says Silvia Ribeiro, ETC Group's Latin America Director. "Legislators in Brasilia should somberly consider the implications of their actions for their own farmers and the country's biodiversity, but also the implications of becoming a country that violates international agreements."
For more information:
Silvia Ribeiro, ETC Group Latin America Director, Mexico silvia@etcgroup.org  Tel: +52 55 5563 2664
Maria José Guazzelli, Centro Ecológico, Brazil serra@centroecologico.org.br
Pat Mooney, ETC Group Executive Director, Canada etc@etcgroup.org  Tel: +1-613-241-2267
[1] The text of PL 268/2007 allows Terminator in crops (e.g., maize) genetically engineered to produce industrial chemicals. If PL 268/2007 is defeated, there is another proposed bill (PL 5575/2009) that would also allow Terminator. That bill is currently pending in Brazil's House of Deputies.