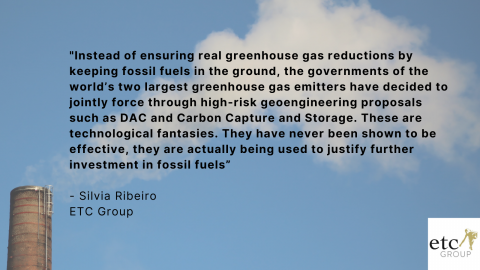 ​​
PRESS RELEASE
We reject the intention of the US and China to deploy Carbon Capture and Storage and Direct Air Capture (DAC) technologies as part of their climate plans. These largely theoretical technologies generally create more emissions than they reduce, and are primarily developed by the fossil fuel industry, with the effect of justifying continued extraction and pollution through the net zero framework.
---
On Wednesday 10 November, the US and China issued a Joint Glasgow Declaration on Enhancing Climate Action in the 2020s declaration, including an intention "to cooperate on...deployment and application of technology such as carbon capture and storage (CCS) and direct air capture" as one of the main points.
Geoengineering schemes like CCS  and DAC are still largely theoretical but within the flawed  framework of "net zero", they serve as a high-risk diversion from making the changes we need to reach real zero.2  
"Instead of ensuring real greenhouse gas reductions by keeping fossil fuels in the ground, the governments of the world's two largest greenhouse gas emitters have decided to jointly force through high-risk geoengineering proposals such as DAC and carbon capture and storage. These are technological fantasies. They have never been shown to be effective, they are actually being used to justify further investment in fossil fuels" said Silvia Ribeiro from ETC Group.
Corporate 'net zero' commitments are based on the assumption that significant gains on investment in Carbon Dioxide Removal (CDR) technology development can be generated either through subsidies or new carbon markets.
The US' and China's focus on geoengineering and 'net zero' contributes to the postponement of actions that would reduce emissions today – like the deep 'decarbonization' of industry, transport, and power production – are postponed, while the wrong technologies are supported in the hope that DAC and carbon capture and storage could eventually remove carbon at some point in the future.
Furthermore 'net zero' is likely to remain a speculative moving target with ever-increasing amounts of CDR required to reach net-zero—at some point in the future—while maintaining the appearance of acting on the climate crisis. This is all extremely problematic as we must terminate our use of fossil fuels immediately and stop polluting before we hit 1.5°C global warming and reach critical tipping points in the climate system. The planet's complex climate system is not a machine that can be simply dialled up or down.
Tom Goldtooth, the Executive Director of the Indigenous Environmental Network warned that "The US-China declaration is a trade agreement to expand carbon capture technologies that do nothing to reduce global greenhouse gas emissions. As long as the US and China continue to violate the inherent rights of Indigenous Peoples and expand the fossil fuel industry through carbon capture, DAC technologies and carbon markets there will be no significant progress made towards addressing climate change."
Also likely is that infrastructure associated with carbon removal will simply reproduce, or deepen, unjust patterns of extraction and exploitation of land and resources in the Global South. Large-scale CDR can have devastating impacts on local communities and natural ecosystems, such as land grabs, human rights violations, and sharp increases in food prices.4
Other geoengineering "red flags" to watch out for:
·       All geoengineering technologies—in particular Carbon Dioxide Removal  (CDR) technologies—are problematic because they require vast amounts of resources including energy, land, water, biomass, and minerals.3
·       The term "removals" is easily exploited by geoengineering proponents to obscure the difference between unproven technological storage (geoengineering) and biological carbon storage in ecosystems. 
·       Climate modelers have developed a bad habit of assuming the use of massive amounts of geoengineered CDR to limit warming, but it is now generally acknowledged that the volumes of BECCS or DAC proposed in earlier IPCC models are unrealistic, and recent IPCC publications have actually caveated the use of BECCS and DAC.
--- 
For more information read: Geoengineering and the 'net-zero' con at COP26

Risky geoengineering schemes are being promoted at COP26. (https://www.etcgroup.org/content/geoengineering-and-net-zero-con-cop26)
This statement also draws on earlier material written by HBF and ETC for the CLARA alliance 'Net Zero Campaign' (https://www.clara.earth/netzero)
---
Contact details:
Tom Goldtooth, Indigenous Environmental Network (in US)
Tel/Signal: +1 (218) 760 0442
Email: tomg@ienearth.org
Tamra Gilbertson, Indigenous Environmental Network (in Glasgow)
Email: tamra@ienearth.org 
Tom Wakeford, ETC Group (in Glasgow) 
Tel/Signal: +44 7966170713
Email: tom@etcgroup.org 
Ronnie Hall, ETC Group (in Glasgow) 
Tel/Signal: +44 7967017281
Email:  ronnie@etcgroup.org 
Footnotes
[1] What is geoengineering?
Geoengineering approaches – referring to large-scale technological schemes to intervene in the climate system through carbon dioxide removal or solar radiation management – figure prominently in plans to implement 'net zero'. In the net zero framework projects could increase GHG as long as they are offset by technology or market mechanisms. Governments and corporations, in particular, are gambling on massive carbon dioxide removal techniques [CDR] to remove CO2 from the atmosphere in the future. Some countries include support for building carbon capture and storage [CCS] infrastructure in recent spending plans, and include CDR technologies like direct air capture [DAC] and bioenergy with carbon capture and storage [BECCS] in their nationally determined contributions [NDCs] on climate change action. Yet the feasibility of these technologies has not been proven, they are prohibitively costly, and they come with serious risks and adverse consequences for humans and ecosystems. 
[2] Over 700 civil society groups have signed on to the call for real solutions, not net zero
[3] To be relevant to 'net zero' and 'removals', the technologies must be deployed at a very large scale. The development of CDR technologies therefore implies the establishment of new transnational extractive industries, creating new emissions along the entire industrial chain. 
[4] The prospect of a big expansion of BECCS—the geoengineering approach most favoured by climate models—would lead to large-scale destruction of biodiversity and natural ecosystems and their replacement with monoculture biomass as feedstock for energy production. Implementing geoengineering on a large-scale would come with devastating risks and unjustifiable ecological and societal impacts. Its ability to effectively remove large quantities of CO2 from the atmosphere is also in doubt. Whether it works as planned, or fails to perform, relying on geoengineering is still likely to lock in several degrees of warming, with catastrophic impact.