A joint news release prepared by: ETC Group, Third World Network, SEARICE, Corporate Watch and Greenpeace South East Asia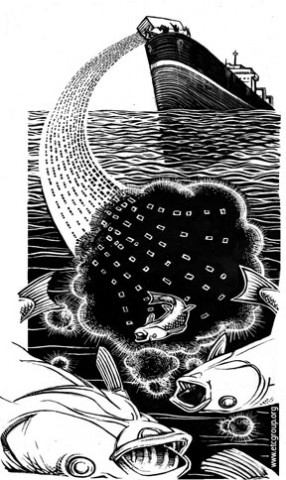 As governments meet in London today to discuss whether the high seas should be used for largescale iron dumping by companies promising a quick-fix for climate change, one private company is rushing ahead with a new ocean dumping scheme in Southeast Asia – this time with urea. Civil society groups have learned that Ocean Nourishment Corporation (ONC) of Sydney, Australia has been given a "go signal" by the Philippines government to experimentally dump hundreds of tonnes of industrially-produced urea, most likely into the Sulu Sea between Philippines and Borneo.

A coalition of international civil society groups today called on the governments of the London Convention – the UN body established to prevent marine dumping – to stop ONC from undertaking experimental ocean dumping of urea. The coalition is also calling for a moratorium on large scale and commercial geoengineering projects until there is public debate, intergovernmental oversight and thorough assessment of social, economic and environmental impacts.

"The global South is once again a dumping ground for risky technologies – this time our oceans are being threatened by high-risk geoengineering schemes that are rushing forward without public consultation or intergovernmental oversight," said Neth Dano of Malaysia-based Third World Network. "A few months ago we learned that Planktos, Inc. wants to dump iron particles in the ocean near the Galapagos – now Southeast Asian coastal waters are the target for experimental urea dumping. It's disgraceful that carbon-trading profiteers are marketing these experiments as humanitarian projects to feed hungry people and arrest climate change," said Dano.