As Craig Venter announces lab-made life, ETC Group calls for Global Moratorium on Synthetic Biology.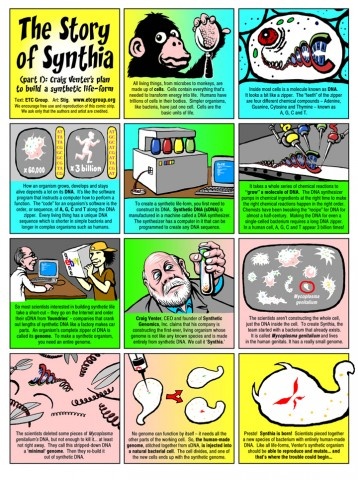 In a paper published today in the journal Science, the J. Craig Venter Institute and Synthetic Genomics Inc announced the laboratory creation of the world's first self-reproducing organism whose entire genome was built from scratch by a machine.(1) The construction of this synthetic organism, anticipated and dubbed "Synthia" by the ETC Group three years ago, will stir a firestorm of controversy over the ethics of building artificial life and the implications of the largely unknown field of synthetic biology.
Panacea, or…? According to today's publication, "Synthia" could be a boon to second-generation agrofuels making it – theoretically – possible to feed people and cars simultaneously. The article further suggests that Synthia, or synthetic biology, could help clean up the environment, save us from climate change, and address the food crisis. "Synthia is not a one-stop-shop for all our societal woes," disputes Pat Mooney, Executive Director of ETC Group, an international technology watchdog based in Canada. "It is much more likely to cause a whole new set of problems governments and society are ill-prepared to address."
…Pandora's Box? "This is the quintessential Pandora's box moment - like the splitting of the atom or the cloning of Dolly the sheep. We will all have to deal with the fall-out from this alarming experiment," comments Jim Thomas of the ETC Group. "Synthetic biology is a high-risk profit-driven field, building organisms out of parts that are still poorly understood.(2) We know that lab-created life-forms can escape, become biological weapons, and that their use threatens existing natural biodiversity. Most worrying of all, Craig Venter is handing this powerful technology to the world's most irresponsible and environmentally damaging industry by partnering with the likes of BP and Exxon to hasten the commercialization of synthetic life-forms."(3)
Read it in other languages: