Commercial geoengineer obtained more than $1 million of community funds; Governments meeting in Hyderabad, India to discuss oversight of geoengineering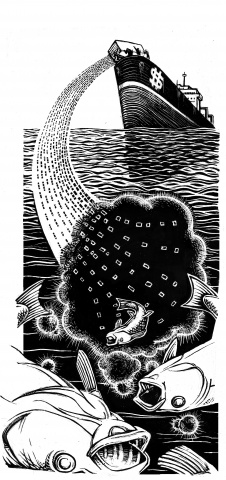 UPDATE:  For a full list of press reporting on this geoengineering scheme see http://www.etcgroup.org/content/full-press-coverage-2012-ocean-fertilization-scheme-near-haida-gwaii
More information about the world's largest geoengineering deployment to-date has come to light since news of the iron-dust dump made headlines on Monday. The so-called 'Haida Salmon Restoration Corporation' (HSRC) claims it dumped 100 tonnes of iron particles into the Haida Eddy of the north-east Pacific Ocean to produce an artificial plankton bloom, even though the practice is prohibited by globally agreed moratoria and Canadian law. The CEO of HSRC, John Disney, claims that several Canadian government agencies – including Environment Canada – were apprised of HSRC's ocean fertilization plans before deployment. Canada's Environment Minister says an investigation is underway and the dump would be illegal if it indeed happened.
"This dump is a blatant violation of global moratoria established by the UN's Convention on Biological Diversity [CBD] and the International Maritime Organization," says ETC Group's Jim Thomas, from Montreal. "The fact that we're hearing this news while governments, including Canada, are meeting in India [at the CBD] to discuss global oversight of geoengineering should significantly up the urgency of that discussion. Back home, Canada needs to come clean about how Disney's 'Mickey Mouse' operation got away with such a serious violation and what it's going to do about it."
Geoengineering refers to intentional, large-scale manipulations of earth systems, most commonly discussed in the context of climate change. 'Ocean fertilization' is the best-studied technique and is the most clearly regulated. It is well known that adding nutrients to ocean waters will increase the phytoplankton population, and the theory is that the plankton will eat up carbon dioxide, just as plants do on land. However, ocean fertilization has been overwhelmingly discredited as a climate change response in the scientific literature: it is too risky – the effects on the marine food web are unknown – and there is little evidence to prove successful sequestration. According to online documents and satellite images, HSRC's iron dump in late July appears to have prompted a 10,000 square kilometer plankton bloom. The UN Convention on Biological Diversity (Decision IX/16) and the London Convention on Dumping of Waste at Sea (LC_LP[2008].1) prohibit large-scale, open ocean and/or commercial ocean fertilization; only small-scale, legitimate scientific research is allowed and only after environmental assessments have been carried out.
HSRC pitched its plans to a small indigenous Haida community (Old Massett Village Council) on the island of Haida Gwaii as a "salmon restoration project." ETC understands the Haida were never told this was a geoengineering scheme or that it was a violation of international law. The President of the Haida Nation – Guujaaw, known for his commitment to environmental stewardship – has told ETC Group that the people of this one village agreed to fund the project believing it was environmentally beneficial and would not have agreed if they knew of any negative effects.
HSRC's chief scientist, Russ George, is not new to controversy. In 2007, his company, Planktos Corp., planned to dump iron near the Galapagos Islands, causing an international uproar; by 2008, Planktos was shuttered. George told shareholders at the time that the company would "suspend operations in order to seek out an alternative near-term business opportunity." Haida documents show that HSRC used $1 million dollars of Old Massett Village Council (OMVC) funds in order to secure a $2.5 million loan from a Canadian credit union, Northern Savings Credit Union. Due diligence by the credit union raised concerns about the proposed scheme – including questions about the legality and efficacy of iron fertilization and about the scientific credentials of those involved – yet ultimately followed through with the loan.
Speaking from the CBD meeting in Hyderabad, India, ETC's Neth Daño says she is dismayed by the actions of HSRC, but not surprised. "This isn't the first time a rogue geoengineer has tried to profit from polluting the commons, and it won't be the last, unless governments prohibit all geoengineering activities and hold violators accountable." Daño notes that Canada earned the "Dodo Award" at the CBD meeting for its support of geoengineering and of biofuels despite their impact on food production. The Award is given to governments that have "failed to evolve" and contribute to, rather than prevent, biodiversity loss.