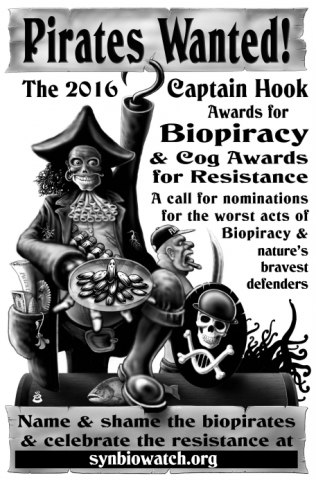 Yo ho ho! Who are the most gruesome and despicable biopirates plundering genetic resources in your country? Which corporate crooks are looting indigenous knowledge in your communities? Have any governments failed to ward off marauders, enacted bogus policies, or plotted against their own people? Which gene-jacking genome editors are carrying out dastardly digital theft via your local genome database?
Nominate your least-favourite biopirate for a 2016 Captain Hook Award here. Help us make infamous the Greediest, Most Offensive, or Most Dangerous biopirates from across the globe.
Only the most brazen bio-buccaneers will walk away winners… along the gangplank, that is!
But it's not all skulls and crossbones! The seas are also alight with beacons of hope. Nominate your most admired biopiracy resistors for a 2016 Cog Award, which will recognize communities, organizations and individuals who have fought off biopirates, defeated predatory patents or otherwise foiled the nefarious plots of fiendish privatizing privateers. (Cog Awards are so-named because cogs were ships designed to repel pirate attacks.)
Learn more and submit your nominations at http://www.synbiowatch.org/captain-hook-awards-2016/
Deadline for nominations: Wednesday 16 November 2016
-- 
About the Captain Hook Awards:
The Coalition Against Biopiracy (CAB)* will host the 6th Captain Hook Awards ceremony at the Thirteenth Conference of the Parties (COP13) to the Convention on Biological Diversity (CBD) in Cancun, Mexico, 4-17 December 2016.
This award ceremony comes as high-tech 'digital' biopiracy is becoming easier than ever. With the accelerating tools of genome-editing and synthetic biology, today's biopirates no longer need to carry their booty offshore in boats and airplanes. Biopirates can swiftly upload DNA as digital sequences in one location and then recreate it as synthetic DNA on the other side of the planet. As the CBD meets to discuss what to do about Synthetic Biology it's high time to take on the new cyberthieves of the biodiversity commons.
Past years' Captain Hook winners have included:
In 2014 the UK and Canada received a "Pirates Cove" award for sheltering the syn bio industry and aggressively promoting the industry's interests at CBD's COP 12.
The World Intellectual Property Organization (WIPO) won the 2004 honour of "Worst International Convention" for proposing a new global patent system to facilitate a one-stop shop for exclusive monopolies.
Synthetic biology pioneer Craig Venter has won the lifetime acheivement award.
Past years' Cog Awards have honoured:
In 2008, the "Best Organized Advocacy" Award was given to Filipino / Philippine civil society organizations, fisherfolk and individuals who stood up for the Sulu Sea
Percy Schmeiser, a Canadian farmer, won the 2004 honour of "Best Advocate" for defending Farmers' Rights in the field and the courts
COMPITCH and other indigenous peoples' organizations in Mexico won in 2002 for defeating the US government's $2.5 million bioprospecting project in Chiapas.
See http://www.synbiowatch.org/captain-hook-awards-2016/captain-hook-awards-past-winners/  for full lists of previous winners.
Sample categories for Captain Hook Awards (you can submit your own, too!):
Worst National Behaviour
Worst International Convention
Greediest
Nanopiracy
Syn Bio Piracy
Most Offensive
Most Dangerous
Sample categories for Cog Awards (you can submit your own, too!):
Best Individual Advocate
Best Peoples' Defense (institution, civil society organization)
Best Legal Defense
Best National Defense
Most Imaginative
*The Coalition Against Biopiracy is an informal group of civil society and peoples' organizations that first came together at the 1995 Conference of the Parties to the Convention on Biological Diversity meeting in Jakarta.