Frente a la crisis, la respuesta ¿está en las nuevas tecnologías?
Evento co-organizado por el Grupo ETC y la Fundación Heinrich Boell
11 June 2015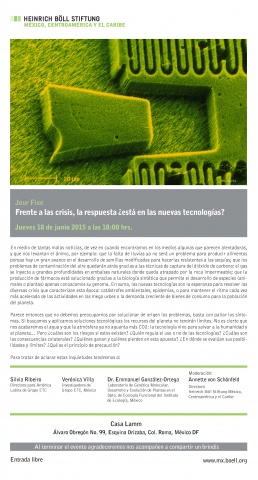 Tenemos el gusto de invitarles a nuestro siguiente Jour Fixe: "Frente a la crisis, la respuesta ¿está en las nuevas tecnologías?"
Se llevará a cabo el día jueves 18 de junio, a las 18:00 hrs, en Casa Lamm, Álvaro Obregón 99, esquina Orizaba. Col. Roma, México D.F.
Entrada libre
Presentan: Silvia Ribeiro y Verónica Villa del Grupo ETC; Emmanuel González, de la Unión de Científicos Comprometidos con la Sociedad-México y Annette von Schönfeld, Directora de la FHB para México, Centroamérica y el Caribe.
En medio de tantas malas noticias, de vez en cuando encontramos en los medios algunas que parecen alentadoras, y que nos levantan el ánimo, por ejemplo: que la falta de lluvias ya no será un problema para producir alimentos porque hay un gran avance en el desarrollo de semillas modificadas para hacerlas resistentes a las sequías; que los problemas de contaminación del aire quedarán atrás gracias a las técnicas de captura del dióxido de carbono: el gas se inyecta a grandes profundidades en embalses naturales donde queda atrapado por la roca impermeable; que la producción de fármacos está solucionado gracias a la biología sintética que permite el desarrollo de especies (animales o plantas) apenas conozcamos su genoma. En suma, las nuevas tecnologías son la esperanza para resolver las diversas crisis que caracterizan esta época: catástrofes ambientales, epidemias, o para mantener el ritmo cada vez más acelerado de las actividades en las mega urbes o la demanda creciente de bienes de consumo para la población del planeta.
Parece entonces que no debemos preocuparnos por solucionar de origen los problemas, basta con paliar los síntomas. Si buscamos y aplicamos soluciones tecnológicas los recursos del planeta no tendrán límites.
¿Quién regula el uso o no de las tecnologías? ¿Cuáles son las consecuencias colaterales? ¿Quiénes ganan y quiénes pierden en esta apuesta? ¿En dónde se evalúan sus posibilidades y límites? ¿Qué es el principio de precaución?
DO YOU APPRECIATE OUR WORK? Please consider supporting ETC's unique research and advocacy with a donation. ETC group is a non-profit charitable organization that undertakes groundbreaking research to expose threats and implications of new technologies and corporate moves. We rely on donations to carry out our research and to stay cutting edge and independant. Donate here.