Published by ETC Group, 2009-05-13
These campaigns are no longer active, but you can search our publications for any updates or follow-ups.
The Campaigns:
Pie-in-the-Sky Contest
Turn around the Geo-engineering ship to protect the moratorium!
Tell Monsanto Where to Go!
Stop GM contamination.
SAY NO TO TERMINATOR!
Cancel the Enola Bean Patent!
Fight the Aromatic Basmati Rice Patent!
Human Rights, Predatory Patents and The Right to Say "No



Click here to download the full-color print-quality poster by Stig, which includes contest details and an illustration of a "pie-in-the-sky" launch, ETC's own geoengineering bright idea.

You don't need to take a workshop to join the latest DIY (Do-It-Yourself) craze! Now you can geo-engineer the great outdoors – all of it! Geo-engineering is the intentional manipulation of earth, oceans and atmosphere to stop climate change. This Big Idea, thought up by geniuses in the North, the birthplace of greenhouse gas pollution, is pretty simple: We've already changed the climate without intending to (oops!), so why not tinker with it a bit more to try to change it back – fast – and we'll never have to rue our "sins of emission." If geo-engineering doesn't work, or if it makes things worse? Oops...

ETC Group wants to know your wackiest idea for a climate change techno-fix: Pies in the sky? Global whitewash? Making mountains out of molehills (to block out the sun)? The DIY geo-engineer who submits the most creative, original and ludicrous scheme – containing a nano-shred of logic, if no plausibility – will be deemed the winner. Your winning idea will be illustrated, posted on our web site, sent to you and distributed far and wide. The deadline is – no surprise – April Fools' Day (1st April 2009). Send an explanation of your geo-engineering scheme, including how it would combat the effects of climate change, to geoengineer@etcgroup.org. Accompanying explanatory diagrams/drawings are welcome, but not necessary.

Competition will be stiff. Professional geo-engineers have gotten a head-start and they've set the wacky-bar high. The following schemes, for example, have already been proposed (by people who weren't joking):
1) DIY Pompeii: Fill balloons with sulfur-containing gas and send them up to the stratosphere. When the balloons burst, sulphate particles (i.e., brimstone) will be released. That's what happens during a volcanic eruption. The sulfate-filled skies will enhance the earth's ability to reflect solar radiation (though the resultant pollution will  unavoidably cause pre-mature deaths).
2) Sunken Treasure? "Fertilize" large areas of the ocean's surface with iron particles to spur phytoplankton growth. The plankton will absorb CO2 while they live and will, in theory, take the carbon down to the depths of the ocean when they eventually sink to their watery graves. (There is no scientific evidence that this actually happens, and the  unnatural phytoplankton blooms could cause unintended affects in the marine ecosystem. Go to www.etcgroup.org to read about LOHAFEX, a recent, controversial German-Indian ocean fertilization experiment in the Scotia Sea.)
3) Not-So-Cheap Sunglasses: Build 16 trillion sunshades (the size of a sheet of paper) and launch them in space 1.5 million km from Earth to deflect sunlight. Estimates are that 20 launchers would each need to shoot up 800,000 screens every 5 minutes for 10 years for the scheme to work. The cost would come close to the current global financial bailout -- a few trillion dollars.
4) Sand(wich) Wrap: Cover 67,000 square miles of the Sahara, Arabian and Gobi deserts in white plastic sheets to reflect sunlight back into space. Unfortunately, blanketing the deserts will kill most plant and animal life underneath and shift local and regional weather patterns.
 

Can you top these geo-engineering schemes?Send us your proposal to geoengineer@etcgroup.org The contest closes April Fools' Day (1st April 2009).The winner will be announced on www.etcgroup.org Earth Day, 22nd April 2009.

For more background info on geo-engineering, see ETC Group's Communiqué, "Gambling with Gaia."


---
Turn around the Geo-engineering ship to protect the moratorium!

At the beginning of this week, ETC Group learned that the RV Polarstern, a German research ship with a crew of 32 geo-engineers was about to leave Cape Town in South Africa for a 70-day voyage to Punta Arenas in Chile. Their aim is to dump iron sulphate in 300 square kilometres of the Scotia Sea off the coast of Argentina. This is part of an ocean fertilization experiment, code named LOHAFEX, that is co-sponsored by the Indian and German governments. The experiment is targeted for the high seas but there is some concern that the experiment may also affect the territorial waters of Argentina. If the LOHAFEX experiment goes ahead, it will breach the global moratorium on ocean fertilisation activities agreed last May by 191 governments at the Convention on Biological Diversity (CBD) and it will defy the agreements made by parties to The London Convention against dumping of wastes in the sea (a treaty of the International Maritime Organisation).

You can read more about the Lohafex expedition and how it is breaching the moratorium at node/710

ETC Group and our allies in Germany, India, South Africa, Argentina and the EU have spent this week raising our concerns with the three governments sponsoring and aiding this illegal geo-engineering experiment: Germany, India and South Africa. We have requested that they respect the moratorium they agreed to last year and instruct the Polarstern to turn around and unload its cargo of iron sulphate.

We have yet to receive any official reply from the governments involved.  Live tracking of the RV Polarstern via the Internet shows that the geo-engineers are still headed full steam for the Scotia Sea.

You can track the RV Polarstern yourself at:
http://www.sailwx.info/shiptrack/shipposition.phtml?call=DBLK
or
http://www.awi.de/en/infrastructure/ships/polarstern/where_is_polarstern/


We are now asking for as many people as possible -- as individuals, through civil society organisations and through your governments --  to write to the German, Indian and South African authorities urging them to respect the agreements they made to enact a moratorium on ocean fertilization activities on the high seas. (Contact information below.)

Keep up the pressure and encourage others to write to the German, Indian and South African governments until we see the RV Polarstern turn around and return to port.



Take Action:

Please write to the Ministers of Environment in Germany, India and South Africa expressing your concern and requesting that the RV Polarstern return to port and offload its cargo of iron sulphate.

You may wish to point out that the LOHAFEX expedition is breaching the CBD's moratorium on ocean fertilization and the London Convention agreement in at least the following ways:

1) It is targeting the high seas
2) It is taking place before any effective global regulatory regime or any rules for assessing environmental impact have been developed
3) There has been no decision as to whether 300 square kilometers constitutes small or large scale
4) The potential environmental effects have not been properly assessed

You may also wish to point out that geo-engineering approaches such as ocean fertilization are the wrong response to solving climate change and could further damage and de-stabilise ocean ecosystems and the climate.

Please consider copying any emails to info@etcgroup.org so that we can track how many people have expressed their concerns.

To view the letters already sent to the German, Indian and South African Environment Ministers see here:
Letter to German Minister-Minister Sigmar Gabriel
Letter to Indian Minister-Dr. Manmohan Singh
Letter to African Minister-Mr Marthinus van Schalkwyk




Contact details for the Ministers

Germany:

Minister Sigmar Gabriel
Federal Minister for the Environment, Nature Conservation and Nuclear Safety
email: sigmar.gabriel@bundestag.de

Address: Sigmar Gabriel, MdB
z.H. Sören Heinze
Platz der Republik 1
11011 Berlin

Tel.: +49 (0)30 227 – 75311 / - 75312
Fax.: +49 (0)30 227 – 76310


India:

Dr. Manmohan Singh
Prime Minister of India and Minister for Environment and Forests
email: manmohan@sansad.nic.in

Address: Dr Manmohan Singh, Prime Minister of India,
Room No. 152,
South Block,
New Delhi, 110001
Office

Tel +91 11 23012312
Fax: +91 11 23016857


South Africa:

Mr Marthinus van Schalkwyk
Minister of Environmental Affairs and Tourism
email: mwillemse@deat.gov.za

Address: Mr Marthinus van Schalkwyk
Department of Environmental Affairs and Tourism
Private Bag X447, Pretoria 0001
Private Bag X9154, Cape Town 8000

Fax: +27 (0)12 322 0082



---
Tell Monsanto Where To Go!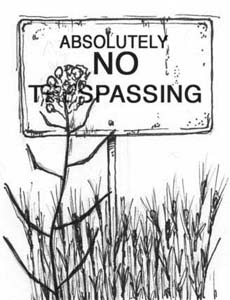 Saskatchewan farmers Percy and Louise Schmeiser fought Monsanto all the way to the Canadian Supreme Court when the Gene Giant accused them of violating Monsanto's patent on GM canola (oilseed rape). Percy and Louise did not want GM seeds on their property and they did not try to benefit from the herbicide-tolerant trait in the GM seed (that is, they didn't spray Roundup weedkiller). Yet, Monsanto came onto their land without permission, dug around to establish that GM canola had contaminated the Schmeisers' farm, and then blamed the family for the company's failure to control its own technology. GM canola pollen has been shown to travel as much as 26 kilometers (16.2 miles). Monsanto has been selling GM canola since 1996. Canola seed can survive in the soil for eight or more years. GM contamination can spread from fields to boulevards to cemeteries and home gardens. With the help of prairie winds and bees, GM seed planted in a field eight years ago could have hitchhiked more than 208 km. Today, GM canola is a major weed pest on the Canadian prairies. Monsanto thinks that if you have their GM seeds on your farm or in your flowerpot and you haven't told them or signed a "technology user agreement," you are violating their patent. If you think your property may have GM canola lurking somewhere (or GM maize or soy or cotton), tell Monsanto where to go! Click below to send a letter to Monsanto warning them that their GM seeds may be trespassing on your land. The letter sets out how this might have happened and what you expect Monsanto to do to make amends. You can send the letter yourself or you can leave it with us. We will compile all of the letters we receive and deliver them by registered mail to the company. This will provide a record of your notification to Monsanto. Then, Monsanto's balls are in your court!

Readers are invited to join the international protest by demanding action.
Tell Monsanto Where To Go!
---
Stop GM contamination!

An open letter to Mexican government authorities and intergovernmental bodies was sent today, signed by 302 organizations from 56 countries, demanding actions to stop contamination of farmers' maize with DNA from genetically modified (GM) maize, and to prevent any further contamination in the world's centers of crop diversity and origin.
The open letter, see "Open letter from international civil society organizations, News Release; November 19, 2003"  asks the Mexican government to maintain the moratorium against the planting of transgenic maize in Mexico, stop the importation of transgenic or non-segregated maize - likely the main source of contamination in Mexico- and conduct urgent studies to determine the extent of the contamination. They also call upon the Mexican Congress to reject the biosafety bill now under consideration because it is "deeply flawed."
Organizations from five continents around the world are also asking the United Nations Food and Agriculture Organization (FAO),the Convention on Biological Diversity (CBD), the International Maize and Wheat Improvement Center (CIMMYT), the Consultative Group on International Agricultural Research (CGIAR), and the Cartagena Protocol on Biosafety to adopt these issues on their agendas and take actions to ensure the application of the precautionary principle to prevent further GM contamination of farmers' varieties. They also urge intergovernmental bodies to call for a global moratorium on the release of GMOs in crop centers of origin and diversity, and to insure that the biotechnology industry will not be allowed to make patent infrigement claims against farmers who are victims of GM contamination.
Take Action!
Readers are invited to join the international protest by demanding action. Go here to send messages directly to the Mexican government and to international bodies:
Stop GM contamination. (Sorry, this campaign is no longer active.)
---
SAY NO TO TERMINATOR!
The genetic modification of plants to produce sterile seeds has been widely condemned by civil society, scientific bodies, and many governments as an immoral application of agricultural biotechnology. If commercialized, the technology will prevent farmers from saving seed from their harvest for planting the following season. The aim of genetic seed sterilization is to maximize seed industry profits by destroying the right of farmers to save their seeds and breed their own crops.
We cannot depend on the good will of transnational corporations to prevent Terminator seeds from becoming a commercial reality. Although Monsanto and AstraZeneca have publicly vowed not to commercialize Terminator seeds, each of these companies has since merged with a different company.
In August 2001 the US Department of Agriculture announced that it had licensed its patents on Terminator seeds to Delta & Pine Land Seed Company, the world's largest cotton seed company. Delta & Pine Land has publicly stated its intention to commercialize Terminator seeds.
ETC group believes that action by national governments will determine the future of Terminator and Traitor technology. We urge individuals - particularly in the South - to contact your ministers of agriculture and encourage your government to ban Terminator/Traitor technology. As the voice for world food security in the United Nations system, the Food and Agriculture Organization has a critical role to play in passing a resolution to condemn Terminator technology, especially in the months leading up to the World Food Summit Five Years Later, 10-13 June 2002.
We invite you to send an email message directly to FAO Director-General, Dr. Jacques Diouf (FAO-HQ@fao.org) urging him to support a resolution by FAO member nations to condemn Terminator technology.
Contact information is also provided (see below) for Delta & Pine Land (the US-based seed company that is commercializing Terminator seeds):
Concerned individuals can also send messages of protest to Delta & Pine Land's new president, and current CEO, Murray Robinson. Let D&PL know that Terminator is anti-farmer, dangerous for the environment and disastrous for world food security. Terminator technology is also bad for business!
F. Murray Robinson, President and CEO
Delta & Pine Land Inc.
One Cotton Row
Scott, Mississippi 38772
Tel: 662 742-4000
Fax: 662 742-3795
Email: harry.b.collins@deltaandpine.com
---
Cancel the Enola Bean Patent!
A US patent on a yellow bean variety ("Enola" bean patent # 5,894,079) has disrupted export markets for Mexican bean growers and is now wreaking havoc on small farmers and seed companies in the United States.
Larry Proctor, the president of Pod-Ners seed company, and owner of the controversial US patent on a yellow-colored bean variety, filed a lawsuit on 30 November 2001 against 16 small bean seed companies and farmers in Colorado (USA). The patent makes it illegal for unlicensed users in the United States to grow, sell, import, or use the proprietary yellow bean seeds.
Farmer and civil society organizations have condemned the Enola bean patent as a textbook case of biopiracy because Proctor readily admits that his proprietary bean seed originates from a bag of edible dry beans he purchased in Sonora, Mexico in 1994. In his 1997 application for plant variety protection, Proctor wrote,
"The yellow bean, 'Enola' variety is most likely a landrace from the azufrado-type varieties" (which originate in Mexico).
The Enola bean patent is being legally challenged by an international plant breeding institute in Cali, Colombia, the International Center for Tropical Agriculture (CIAT). The challenge is supported by the United Nations Food and Agriculture Organization. CIAT's legal challenge points out the yellow bean was "misappropriated" from Mexico, and violates Mexico's sovereign rights over its genetic resources, as recognized by the Convention on Biological Diversity.
See "Enola Bean Patent Challenged", RAFI News Release January 5, 2001
It has been over one year since CIAT filed its request for re-examination of the Enola bean patent at the US Patent & Trademark Office. The PTO's decision has been stalled because Proctor's lawyers have amended the original patent by filing 43 new claims!
Email campaigns targeting the US Patent & Trademark Office are rare. However, since there is no alternative avenue for civil society to register its concern, we invite you to send an email message to the newly appointed director of the US PTO, urging him to give careful consideration to the re-examination and re-issue of US Patent # 5,894,079 on a yellow bean of Mexican origin. Tell the PTO to cancel the Enola bean patent and all of its new claims! (Letter were directed to The Honorable James E. Rogan-Stephen.Kunin@USPTO.GOV)
---
RAFI launched a postcard campaign to fight a patent that lays claim to Asia's famous aromatic Basmati rice.
Thousands Drop A Line to the Prince Urging Him to Drop the Patent
On Tuesday, 12 May 1998 at the Fourth Conference of the Parties to the Convention on Biological Diversity meeting in Bratislava, Slovakia, RAFI officially launched an international postcard campaign aimed at Prince Hans Adam II, the Prince of Liechtenstein. The Prince is the chairman of the RiceTec Group, whose Texas-based subsidiary, RiceTec Inc., holds the controversial patent on Basmati rice (#5,663,484).
Hundreds of NGOs and government delegates attending the COP IV meeting in Bratislava were eager to sign postcards and mail them to Prince Hans-Adam II. "The Prince needs to be held accountable. He made a mistake, and he can correct the situation by dropping the patent," said RAFI's Edward Hammond. "We're certain that the Prince will get the message because he'll be receiving thousands of postcards printed in English, German and Spanish from concerned individuals and civil society organizations all over the world," explained RAFI's Hammond.
Check out RAFI's postcard to Prince Hans- Adam II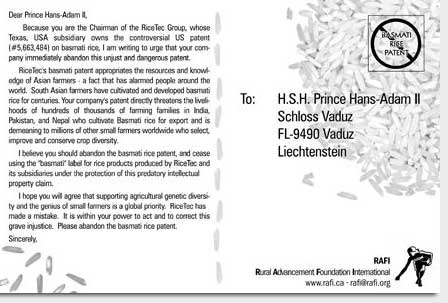 RAFI's postcard campaign is the latest in a series of civil society protests of the Basmati rice patent. The controversial patent, issued in September 1997, lays claim to Asia's famous aromatic Basmati rice. The patent covers Basmati grown anywhere in the Western Hemisphere, and effectively claims ownership of traditional Pakistani or Indian Basmati strains when crossed with the company's proprietary lines. For further details, see RAFI's 1 April 1998 GenoTypes on the Basmati patent.
The Indian and Pakistani governments have vowed to fight the US patent, which is viewed as a threat to the livelihoods of hundreds of thousands of farming families in India, Pakistan and Nepal who grow Basmati rice for export. When news of the patent reached New Delhi, over 50,000 Indians protested in front of the US Embassy. In India alone, basmati rice exports are valued at (US) $800 million per annum. Over 80% of Basmati rice grown in India is produced for export.
A wide coalition of Southeast Asian NGOs and Peoples' Movements recently denounced the Basmati rice patent at the World Trade Organization. The coalition called on WTO member states to recognize that farmers' and community rights have precedence over intellectual property rights and that IPRs destroy biodiversity.
---
Are Patents Out of Control? Human Rights, Predatory Patents and The Right to Say "No"
Patents granted in major trading jurisdictions such as the European Patent Office or the US Patent and Trademark Office are often accepted without question by overburdened patent authorities elsewhere. Yet, many exclusive monopoly patents related to the processes and formulae of life are contrary to a country's moral sense - or even pose a threat to food security or the environment. Many countries have national patent laws that provide for what is commonly known as ordre public - ensuring the government's right to say "no" to "immoral" patents. This well-established national right is also embedded in the GATT TRIPS (Trade-Related aspects of Intellectual Property) agreement under Article 27(2).
Members may exclude from patentability inventions, the prevention within their territory of the commercial exploitation of which is necessary to protect ordre public or morality, including to protect human, animal or plant life or health or to avoid serious prejudice to the environment, provided that such exclusion is not made merely because the exploitation is prohibited by their law.
- GATT (Annex 1C, Part 2, Section 5, Article 27, Paragraph 2)
The grounds for rejecting individual patents (or plant breeder's rights) can be summarized as follows ...
Contrary to national morality: including claims usurping national or indigenous knowledge such as those for Turmeric, Neem, Ayahuasca, Quinoa, Endod and Kava;
Contrary to human life or health: such as those covering human cells or genes, umbilical cord cells, or cloning;
Contrary to the well-being of the environment and food security: including plant and animal life such as species-wide patents on cotton, soybeans and brassicas.
We are asking all governments to consider the following steps:
If any of these patents have been applied for - but not yet granted - notify the applicant that the patent is unacceptable;
If any of these patents have been granted, invoke either national law or TRIPS Article 27(2) to repeal the offending patents;
If no applications have yet been made, notify the patent assignee (usually a corporation or a university) that the patent will be rejected for reasons of ordre public;
Advise other governments and/or the World Intellectual Property Organization (WIPO) and the World Trade Organization (WTO) of the steps being taken and why;
Beyond these immediate patents, governments could also work for long-term solutions that will protect their sovereign right to reject patent claims that offend national morality or security. Among the steps that could be considered ...
At the time of the review of the TRIPS arrangements in 1999, Article 27(2) should be amended to ensure that patents can not only be rejected on a case-by-case basis but that whole categories of intellectual property claims can be rejected on the basis of ordre public;
By a request of the UN General Assembly (or one of its Specialized Agencies), governments may ask the International Court of Justice for an Advisory Opinion on the predatory nature of current patent regimes vis-a-vis traditional or indigenous knowledge;
Similarly, governments might ask the World Court (ICJ) for an Advisory Opinion on whether or not patents on living processes and formulae are, first and foremost, issues of morality that cannot be subsumed by other international agreements;
Finally, an Advisory Opinion could be sought from the ICJ on the propriety of intellectual property monopolies over human genetic material.
The Patents are Out of Control Chart
A unique sheet illustrating where twenty of the world's worst patents have been granted and scoring individual countries on the number of predatory patents they have allowed to issue on their soil. A preview of the chart is below. Click for a full size picture.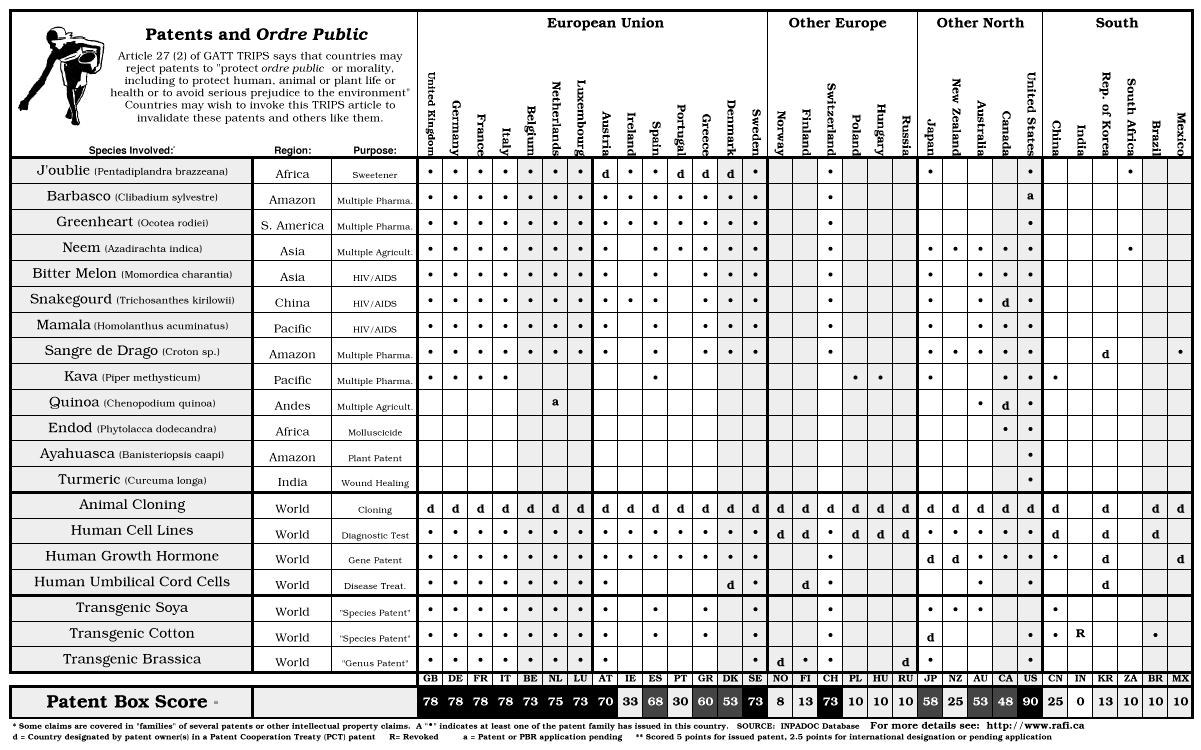 Note: The twenty patents listed here are merely indicative of a much longer list of several thousand intellectual property claims that RAFI believes to be contrary to ordre public. We encourage governments to consult with Indigenous Peoples and Civil Society Organizations.
The 20 Worst Patents - Out of Control:
Each of these patents prey on indigenous knowlege and resources, threaten food security, or are contrary to the dignity of human life. The descriptions include links to more detailed information. Available as a large image file.
Umbilical Cord Cells
Homo sapiens
US 5,004,681, EP 343217,etc.
As unbelievable as it may seem, human umbilical cord cells have been patented by the US company Biocyte. Any doctor wishing to use umbilical cord blood cells in surgery or transfusions must pay royalties. The cells may be crucial in treating bone marrow diseases.
Human Genes
Homo sapiens
US 5,597,709, WO 9520398, EP 741578, etc.
A human growth hormone gene is one of the latest patents granted to Human Genome Sciences (HGS), a US company patenting human genes as fast as it can. HGS has filed patent applications covering over 1 million partial human gene sequences. HGS has alliances with at least 10 major drug corporations to provide access to human genes and genetic information.
Human Cell Lines
Homo sapiens
WO 9512814, EP 727046, etc.
Here's proof that the sometimes voiced perception that human patenting is an "American problem" is only partially right. True, it's a problem in the US; but also throughout the world. Australia's Flinders Medical Centre is seeking patent monopoly on human cell lines (part of a diagnostic test for autoimmune disease) on five continents.
Cloning
All animal species, including humans
WO 9707668, WO 9707669, others pending
The UK's Roslin Institute is so sure it has an economic winner it is claiming its cloning patents in even the weakest of economies - North Korea and Liberia, for instance. The patents are licensed to PPL Therapeutics, a company which has agreements with major drug multinationals like Novo Nordisk, Boehringer Ingleheim, and American Home Products. More licenses may be granted. Unlike many bioengineering patents, which are specified for "non-humans", Roslin says its cloning patents cover all animals, including humans.
Cotton
Gossypium hirsutum
US 5,159,135, EP 270355, CN 87107233, etc.
Challenged in the US and Europe, but so far still standing, Monsanto's patent on all genetically-engineered cotton should never have been granted. Even the US Government, which is seldom hesitant to help US companies, agrees that the patent should be revoked and has asked its own patent office to do so. Monsanto wants to keep the patent, meaning it will take years and millions of dollars before the case is closed.
Soya
Glycine max
EP 270355, DE 3888040, CN 1030940, etc.
Action by RAFI prevented this species patent on transgenic soya from being issued in the US; but this patent, another in Monsanto's long list of sweeping monopoly claims, has been issued in Europe and many countries. Originally issued to the WR Grace Corp, the patent drew an almost 300 page opposition from Monsanto at the European Patent Office. In 1996, Monsanto did an abrupt turn around on the patent after buying WR Grace's agbiotech division. Now Monsanto says it will defend the patent that it previously opposed as "obvious".
Brassica
rapeseed, broccoli, cauliflower, cabbage, etc.
US 5,188,958, EP 270615, JP 1500718, WO 8707299
One of the most sweeping of a number of extremely broad patents issued in the last decade, Monsanto Corporation's patent on transgenic brassica covers any plant in the entire brassica genus genetically-engineered using the agrobacterium method.
Sangre de Drago
Croton sp.
WO 9206695, EP 553253, US 5,211,944
Shaman Pharmaceuticals went to the Amazon to get sangre de drago ("dragon's blood"), an indigenous peoples' medicinal plant from which Shaman has isolated its patented pharmaceutical. The company talks about "reciprocity" in its relations with the indigenous peoples who it taps for resources and knowledge; but so far the indigenous people who are Shaman's sangre de drago sources have received a few thousand dollars while Shaman has raised millions in the US capital market.
Neem
Azadirachta indica
US 5,411,736, US 5,409,708, EP 436257, etc.
A very widely known and long-cultivated tree with medicinal and agricultural uses in Asia, and especially, India. Today's sad truth is that neem is almost as well known in Northern patent offices, where multinationals have filed dozens of patent claims on neem. Most recently, Monsanto has taken out a pair of patents on neem wax and oil and claimed broad fungicidal and insecticidal uses.
Snakegourd
Trichosanthes kirilowii
US 5,317,009, WO 9304085, EP 647272, etc.
Called "the powder from the flower of the Gods" in Chinese, the National Institutes of Health (US) and New York University have brought snakegourd firmly down to earth with a series of patents that stretch across the globe. The "inventors" claim a snakegourd-derived compound to treat HIV. As with the bitter melon patent, snakegourd's "inventor" is quite frank about how the plant "has been used in China for many, many years... and is well-known for its therapeutic effect."
Kava
Piper methysticum
US 5,585,386, EP 672406, JP 8040894, etc.
The basis of the ceremonial beverage of the same name, Kava is grown in many Pacific countries, including Vanuatu, Samoa, Fiji, Papua New Guinea, Solomon Islands, Federated States of Micronesia, as well as Irian Jaya (Indonesia). Drug companies are racing to patent Kava's many beneficial uses. French cosmetics giant L'Oreal (Nestle is a major stockholder) has patented the use of Kava to reduce hair loss.
Turmeric
Curcuma longa
US 5,401,504
An ancient and Indian ayurvedic medicine, turmeric has been patented by researchers from the University of Mississippi (US). For thousands of years, Indians have applied ground turmeric root to cuts and scrapes to promote healing. But the US patent gives a monopoly to Mississippi for a "method of promoting healing of a wound by administering turmeric to a patient afflicted with the wound." The Indian Council of Scientific and Industrial Research has asked the US to revoke the patent.
Barbasco
Clibadium sylvestre
EP 610059, GB 9301920, US application filed
A well-known plant cultivated by Amazonian indigenous people for hundreds of yearsand used in agriculture and medicine. It is best known as a highly effective poison that stuns and paralyzes fish. Conrad Gorinsky, president of the UK's Foundation for Ethnobiology, has patented a barbasco compound and is marketing it to pharmaceutical multinationals Zeneca and Glaxo. Gorinsky's patent claims many uses including, not surprisingly, regulation of muscular activity.
Mamala
Homolanthus acuminatus / Omalanthus acuminatus
EP 531413, US 5,599,839, WO 9118595, etc.
Like Shaman Pharmaceuticals, the primary "inventor" behind this patent on a Pacific medicinal plant goes to great pains to say how important indigenous knowledge is to their research. They may even be providing some return to Samoan people; but the patent says the "prostratin" compound isolated from this Pacific medicinal plant - found from New Caledonia to Tahiti - belongs to the US Department of Health and Human Services, the US Army, and Brigham Young University.
Ayahuasca
Yagé / Banisteriopsis caapi
US Plant Patent #5,751
A medicinal plant cultivated since pre-Columbian times across the Amazon basin. A small US company, the International Plant Medicine Corporation (IPMC) took out a US plant patent on a variety of ayahuasca collected from indigenous people in Ecuador. IPMC has ignored requests from indigenous people to give up the patent and is working to develop psychiatric drugs from the plant.
Quinoa
Chenopodium quinoa.
US 5,304,718, WO 9314624, AU 9222922
A staple food crop for millions in the Andes, particularly for Quechua and Aymara people in Chile, Bolivia, Peru, and Ecuador who have bred a multitude of quinoa varieties adapted to variable Andean conditions. One of these, Apelawa (named for the farmers of a small Bolivian town), has been patented by two professors at Colorado State University (US) because this farmers' variety is the key to a male sterility system. The patent claims any quinoa crossed with male sterile Apelawa plants. CPRO-DLO (Netherlands) is also bullish on quinoa and has applied for PBR monopoly in the Netherlands on at least one variety.
J'oublie
Pentadiplandra brazzeana
US 5,527,555, EP 684995, WO 9531547, etc.
Called "I forget" in Gabon, a reference to the sweet bliss of its berries. The sweet compound in J'oublie has been patented by the University of Wisconsin (US), which has licensed it to industry. Dubbed "brazzein" by Wisconsin researchers, the extract of this African plant is 500 times sweeter than sucrose. Wisconsin thinks it may be a hit in the US $100 billion a year global sweetener market. Researchers are trying to "grow" brazzein in transgenic microorganisms so that berries don't have to be obtained in Africa. The university says brazzein "is an invention of a University of Wisconsin researcher" and "Wisconsin has no connection to Gabon."
Greenheart
Ocotea rodiei
EP 610060, US 5,569,456
From the Guyana Shield region, an extract of the nut of the greenheart tree has been patented by the director of the Foundation for Ethnobiology. The Greenheart patent claims broad medical uses and is being marketed to major pharmaceutical companies. The Foundation boasts that its ongoing studies in Guyana - which it calls "The Greenheart Project" - include "training and the examination of issues relating to sustainable development and intellectual property rights in anticipation of further development of biodiversity resources."
Bitter Melon
Momordica charantia
US 5,484,889, JP 6501689, EP 552257, etc.
A fruit that has been used in Southeast Asia and China for centuries against tumors and infections, bitter melon has been patented by the US National Institutes of Health, the US Army, and New York University for its anti-human immunodeficiency virus (HIV) effects. Even the "inventor" of the bitter melon patent admits it is "very widely eaten in the Chinese community for health reasons" and that the fruit is widely thought to have anti-HIV properties.
Endod
African Soapberry / Phytolacca dodecandra
CA 2034414, US 5,252,330
Patented by the University of Toledo (US), endod has been selected and cultivated by Africans for centuries, particularly in Ethiopia. It is used as a soap and shampoo as well as a poison to stun fish. Endod is lethal to snails - a fact discovered by Ethiopian scientists - and may be effective controlling schistosomiasis. After an Ethiopian scientist demonstrated endod's potency to Toledo scientists, they took out a patent, hoping to sell endod as a biological control for the Zebra mussel, a pest in the Great Lakes of the US and Canada.
---
Patent Victories: Does this challenge sound ambitious? It is. Consider the numerous victories civil society has won over life patents in recent years. RAFI and numerous other peoples' organizations and NGOs worldwide have worked together to bring down unjust, predatory, and immoral patent claims.
DECEMBER 1996: HAGAHAI CELL LINE
After a lengthy global campaign led by RAFI, the US National Insitutes of Health "disclaimed" its notorious US patent on the human cell line of a Hagahai indigenous person from Papua New Guinea (#5,397,696) in December 1996. NIH's forfeit of the patent was directly provoked by severe criticism it was receiving from foreign governments, peoples organizations, and NGOs. Yet NIH was defiant in giving up the outrageous patent, and continues - the latest in a pathetic series of dubious assertions - to say it was not reacting to pressure and only abandoned the patent because it was commercially unviable. Paradoxically, NIH continues to refuse to release information about the patent and associated research, claiming a trade secrets and commercial information exemption in the US Freedom of Information Act.
FEBRUARY 1994: TRANSGENIC COTTON
Reacting to information published in RAFI Communique, in February 1994 the Indian government summarily revoked W.R. Grace's "species patent" on transgenic cotton "because of its far-reaching implications for India's cotton economy." India is the world's third largest cotton producing nation. The patent (now owned by Monsanto) was issued in the US and several European countries where government and CSO efforts are underway to have the patent revoked.
SEPTEMBER 1997: TURMERIC
Working with Indian CSOs, the Indian Government's Council on Industrial and Scientific Research successfully challenged a US patent (# 5,401,504) held by the University of Mississippi (US) on the use of turmeric (Cucurma longa) to promote the healing of wounds. Turmeric (haldi) has been used in Ayuvedic medicine to promote wound healing since antiquity; but that didn't stop the US Patent and Trademark Office from granting exclusive patent monopoly to Mississippi.
CURRENT: TRANSGENIC SOYA
RAFI has filed and with other CSOs is currently pursuing a formal challenge - on ethical and technical grounds - to Monsanto's sweeping "species patent" on transgenic soya (EP0301749B1) at the European Patent Office. Quick action by RAFI prevented the issuance of this claim in the US. The patent covers any and all soya genetically-modified using the agrobacterium method and was originally granted to the Agrecetus subsidiary of the W.R. Grace company. Agracetus has since been bought by Monsanto, leading to a comical, cynical waffling on the patent by the St. Louis-based company. Monsanto originally called on the EPO to revoke the patent, but when the company bought Agracetus, it flip-flopped and told RAFI - in a July 1996 interview - that the company has changed its mind and will now defend the patent it had slammed (in a gigantic 292 page opposition) just two years before as not novel, obvious, and lacking an inventive step.
1990-1994: GUAYMI AND SOLOMON ISLANDS CELL LINES
The Hagahai patent has not been the US National Institutes of Health's only attempt to patent the human tissue of indigenous people. In 1990, NIH filed for patents on human cell lines extracted from a Guaymi indigenous woman from Panama and another cell line drawn from an indigenous Solomon Islander. In addition to the US, the Solomon Islands claim was sought in at least 17 other countries by the US Department of Commerce on behalf of NIH. RAFI's work (including a visit to the World Intellectual Property Organization with Guaymi representatives) and publicity it generated surrounding these patent applications provoked protests from foreign governments, peoples' groups and NGOs that led to NIH's abandonment of the claims. Despite these three victories, NIH still claims the right to patent the tissue of indigenous people (and others) when it pleases. Moreover, it has never come clean about the patent applications and continues to deny requests for public release of files documenting this and related patent claims.