Tools for Challenging Industry Narratives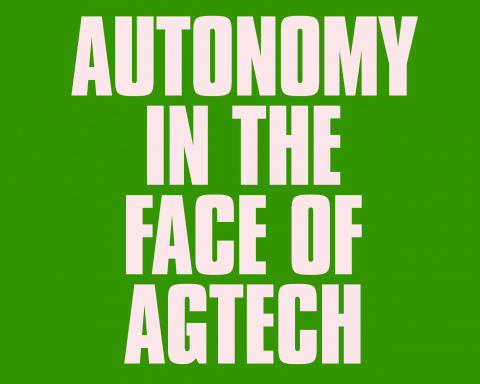 Autonomy in the Face of Agtech is a set of tools designed to synthesise the insights of social movements and civil society communicators and offer ways to respond quickly and effectively to corporate agtech narratives.
Today, new agricultural technologies are being conceived, designed, and implemented rapidly, without space to consider the implications and consequences for farmers. This push is driven by the rise of "agtech", a newly developing industry that combines several sectors — agribusiness, biotechnology, digital/software technology, and financial technology. We typically see agtech advertised in the form of "high-tech" modern farming implements, practices, and platforms — from drone farming to robot harvesters, to agri-e-commerce sites, to gene-edited crops. Pitched as "the future of agriculture", agtech is facilitating the flow of billions of dollars of investment into corporate-owned technologies that entrench and extend the control of powerful actors in industrial agriculture, further threatening the rights and lives of farmers, peasants, and Indigenous communities.
Because there are so many new technologies put forward every year and given that each can take time and in-depth knowledge to understand, we propose an intervention method that focuses less on the technical details of each of these products and more on the influential stories and narratives being used to sell them. We present strategies for identifying how popular narratives around technologies work, their impact and implications, what gives them power, and how we can take it back.
Within the booklet, you can find:
A discussion on the power of narrative
An analysis of key agtech industry narratives
Opportunities to counter industry narratives
A breakdown of the key areas of agtech
A media analysis guide
This booklet was put together as a collaboration between A Growing Culture, ETC Group, La Vía Campesina, and the Alliance for Food Sovereignty in Africa. We are grateful for our partnership with Center for Story-based Strategy, and the support of The 11th Hour Project to create this work.