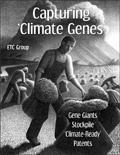 Nagoya, Japan -- Under the guise of developing "climate-ready" crops, the world's largest seed and agrochemical corporations are filing hundreds of sweeping, multi-genome patents in a bid to control the world's plant biomass, according to a report released by ETC Group today.

A handful of multinational corporations are pressuring governments to allow what could become the broadest and most dangerous patent claims in history, warns the group at the United Nations' Convention on Biodiversity in Nagoya, Japan (18-29 October 2010).

ETC Group identifies over 262 patent families, subsuming 1663 patent documents published worldwide (both applications and issued patents) that make specific claims on environmental stress tolerance in plants (such as drought, heat, flood, cold, salt tolerance). DuPont, Monsanto, BASF, Bayer, Syngenta and their biotech partners account for three-quarters (77%) of the patent families identified. Just three companies – DuPont, BASF, Monsanto – account for over two-thirds of the total. Public sector researchers hold only 10%.