Available in English, French and Spanish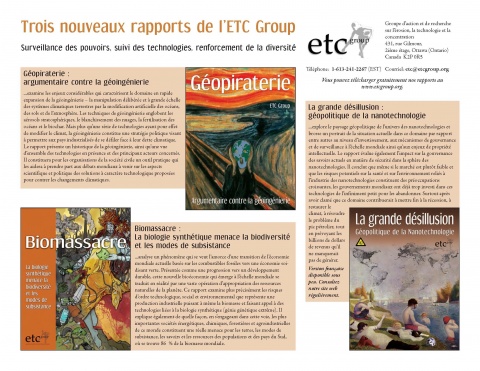 The New Biomassters - Synthetic Biology and the Next Assault on Biodiversity and Livelihoods is an analysis of the emerging global shift from the fossil fuel economy to a so-called green economy. While it is presented as a shift toward sustainability, this emerging bioeconomy is in fact a massive industrial grab on natural resources. The New Biomassters analyzes the technological, social, and environmental risks of global-scale biomass-based production and the emergence of synthetic biology (extreme genetic engineering). The report documents how the world's largest energy, chemical, forestry and agribusiness corporations threaten land, livelihoods, knowledge and resources of the global South, where 86% of the world's biomass is located.
Geopiracy: The Case Against Geoengineering examines the high stakes involved in the rapidly advancing field of geoengineering – the intentional, large-scale manipulation of the Earth's systems by artificially changing oceans, soils and the atmosphere. More than a set of climate altering technologies, geoengineering is a political strategy aimed at letting the industrialized countries off the hook for their climate debt. This report will help civil society organizations navigate the coming global debates over the science and politics of climate-change techno-fixes.
Gene Giants Stockpile Patents on "Climate-Ready" Crops in Bid to Become Biomassters identifies what may be the biggest patent grab in history: thousands of claims on environmental stress tolerance in plants (such as drought, heat, flood, cold and saline soils). The world's largest seed and agrochemical companies – DuPont, Monsanto, BASF, Bayer and Syngenta – account for three-quarters of the claims.  Rather than helping the world adapt to climate change, this report shows that the privatization of "climate-ready" genes will increase farmers' dependence on GM crops, jeopardize biodiversity, and threaten food sovereignty.